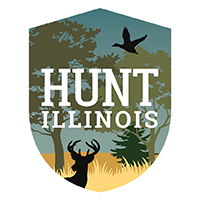 In collaboration with 2wav, Studio 2D designed this comprehensive hunting website for Illinois Department of Natural Resources. This is an example of a "web app" that works beautifully on a phone without having to download a separate app. Just go to the URL.
Hunt Illinois has lots of resources, including information by species and a hunt planner. A custom programmed license finder walks you through a series of questions to help you find the exact license you are looking for.
The logo and branding was an integral part of the project.
The following is the press release:
"The Illinois Department of Natural Resources (IDNR) announced the launch of the new Hunt Illinois website—an online resource for Illinois residents and visitors to the state interested in hunting in the Land of Lincoln.
"The website includes information on Illinois hunting seasons, places to hunt, licenses and permits needed, hunting and trapping regulations, hunter harvest reporting, hunter safety, wildlife management, and conservation programs.
"The new Hunt Illinois website is an easy-to-use one-stop resource for hunters to find just about everything they need to know about planning a hunt, no matter the species, no matter the season," said IDNR Hunter Heritage Program Manager Jared Duquette.
"The new website was developed by the IDNR in cooperation with the National Great Rivers Research and Education Center, with funding support from the U.S. Fish and Wildlife Service Wildlife Restoration Program."