I am a graphic designer and I love to design
For me, being a graphic designer is not hard work. It's enjoyable, fulfilling, and satisfying. My 5 step creative process is highly collaborative and leads to striking logos, beautiful websites, and stylish publications.
I know that your organization is unique, therefore I don't use templates. You might have competitors, but no one is serving their clientele quite like you do. Every business (whether for profit or nonprofit) needs to communicate who they are, what they do, and who they serve. Most communication is nonverbal. I am passionate about visual communication. My strength is the ability to offer creative ideas and execute them with attention to detail.
How does Studio 2D differ from an agency? Studio 2D has no commercial office, no receptionist, no permanent staff, in other words, very little overhead. Instead, I invest in the best tools—hardware and software. I work efficiently. My experience prevents costly mistakes. If you need a programmer, editor, or photographer, I have colleagues that can step in. I can recommend a printer or SEO expert.
My clients have savvy and style. They know that professional design exudes credibility, excellence, and flair.
Experience
You can be assured of top-notch quality when working with Studio 2D. I have a BFA in Graphic Design from the University of Illinois at Urbana-Champaign. For 8 semesters I taught graphic design and typography at Parkland College. I have 30+ years of continuous experience as a professional designer.
Now based in Colorado Springs, I have clients in Chicago, Champaign-Urbana, San Diego, and Cologne, Germany. I have worked with organizations from California to Florida. It's easier than ever to do business remotely.
Pro bono work is the way I give back. Projects include rebranding the Manitou Springs Heritage Center, event promotion for the Manitou Art Center, user interface design for the Emma Crawford Coffin Race and the Public Art League, web design for SCORE and Habitat for Humanity (local chapters).
I served two years on the board of the Southern Colorado Women's Chamber Foundation, after serving for three years on the board of the Manitou Art Center. Previously, I served as the marketing chair for ECI SCORE, and the vice president of the Executive Club of Champaign-Urbana.
What to Expect
When you call Studio 2D, I'll ask you about your business, who your audience is, and what you want to say. If we decide to work together, our discovery conversation will be about your organization's mission and goals. We will talk about what piece(s) need to be produced. Design starts with asking the right questions, then listening. When working with Studio 2D, you will see pdf proofs every step of the way.
Studio 2D designs:
logos and branding
newsletters and magazines
books
brochures
conference material
websites
posters and signs
annual reports
catalogs
menus
marketing pieces including presentation folders and giveaways
social media graphics
There is no price list because everything I design is custom. I do have a new business package and a brand makeover package—ask me if you're interested.
Studio 2D serves any organization that has an internet connection and wants an exceptional graphic designer. Based in Colorado, I serve clients across the United States and internationally. Use this contact form to describe your project and I will get back to you. (Sorry, but putting a phone number or email address on the web invites spam.)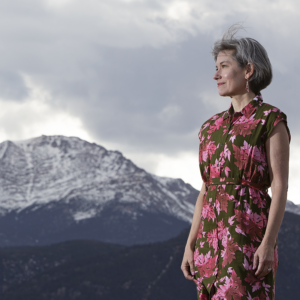 Gretchen Wieshuber
(pronounced WEES hoober)