Studio 2D designed the logo and branding for the Conservation Inclusive Construction and Development Archive (CICADA). Obviously a cicada is the star of the show, along with an assortment of living things surrounding a house and a building.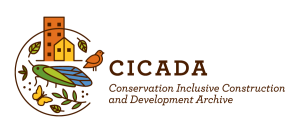 The goal of the website is to make it easy for homeowners and developers in Illinois to find the best information on making wildlife friendly habitats. The logo is colorful and fun, showing the abundance that good environmental practices bring. A color palette of bright, yet natural, colors amps up the appeal of the logo and website.
The website, developed in collaboration with 2wav, is discussed in a separate post.